Manchester United are in the midst of what could be their worst ever Premier League season with regards to points. Manchester United have 35 points from 25 games. They're on course to miss out on Champions League again and could be in for another managerial change by the summer.
Manchester United's players have performed below expectations. Ole's summer signings have had some very good individual impacts but they could have had as team.
In this article, we rate every player who has played 2 games or more. Hence why, you won't find Eric Bailly, Bruno Fernandes or Odion Ighalo feature.
Here we go:
DAVID DE GEA
David has not had an excellent season but he hasn't had a poor one like he had last year. He has had some standout performances too. The one against Sheffield United where Man United drew 3-3, De Gea kept United in the game.
MUU RATING: 6/10
Sergio Romero
Sergio Romero was always seen as the able backup to David. And when he's played, it has been clean sheets galore. He has kept 8 clean sheets in the 10 games he has played this season in the cup competitions. Having an outstanding season so far.
MUU RATING: 7/10
Aaron Wan-Bissaka
The England U-21 Right back was signed from Crystal Palace in the summer for a hefty fee of 45m pounds. He was always very good defensively. And he has stayed true to that nature. A monstrous defensive performance against Manchester City in the derby was synonymous of the talent Wan-Bissaka is.
MUU RATING: 7/10
Diogo Dalot
Diogo Dalot is facing another season marred with injuries. The exciting fullback has not had the chance to upstage Wan-Bissaka yet. But, the competition he can bring to the table will be good. When he's played, he has done pretty well enough. He scored his first United goal in the FA cup thrashing of Tranmere in January.
MUU RATING: 6/10
Harry Maguire
Manchester United made England defender Harry Maguire the most expensive defender of all time. Has he lived up to such lofty expectations? The simple answer is, no. He has improved our defence no doubt. But, he has not exceeded the expectations from a record signing. Still is very handful. Club captain since Ashley Young's exit in January.
MUU RATING: 5.5/10
Victor Lindelof
The Swede has had a mixed bag. He has churned out some match-saving tackles and has put in victory rewarding performances. But, at the same time, his mistakes have cost United games too. Victor just needs to find the consistency he had last season.
MUU RATING: 6/10
Phil Jones
Not to be too harsh on Phil Jones, The lesser said the better about him. He scored his first goal in 6 years against Tranmere but that is just about it.
MUU RATING: 3/10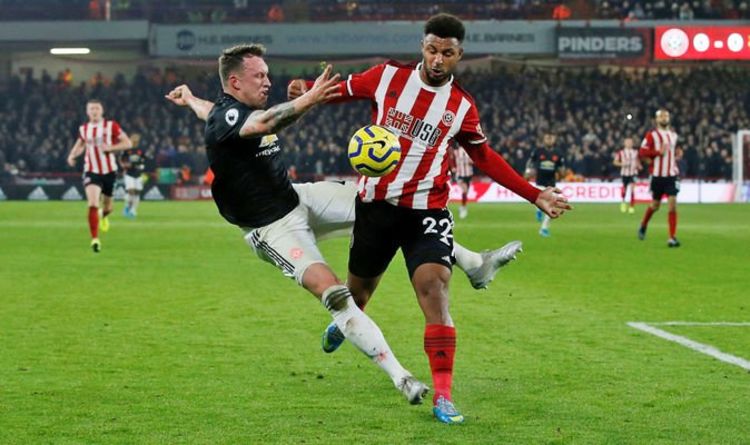 Axel Tuanzebe
Another promising defender's season riddled with injuries, Axel has been a rock at the back whenever he's been called upon. Will be interesting to see how he comes up in the second half of the season. The standout game was Arsenal at Old Trafford where he had to play left-back and dominated the entire game.
MUU RATING: 5/10
Luke Shaw
Another season of inconsistencies, injuries and a burst of form for Luke Shaw. He has to improve with Brandon Williams breathing down his neck to be the long term left-back at Manchester United.
MUU RATING: 4/10
Brandon Williams
Quite easily the find of the season. The youngster was thrust in the deep end and has stood up to the task. What started off as an experiment could well turn out to be the process that gives Manchester United, their long term left-back.
MUU RATING: 8/10
Nemanja Matic
Nemanja Matic has had a mixed season. He was sluggish, slow and out of pace at the beginning of the season. Since McTominay's injury, Matic has risen up to the task of protecting the defense well and has been the standout performer in the last few games. Will be very crucial in the next part of the season.
MUU RATING: 5.5/10
Fred
The Brazilian midfielder has turned it on this season. He has been an absolute phenomenon in 2 other midfielders' absence. He has taken his game to another level. Hopefully, he remains consistent enough to win the Manchester United POTY award.
MUU RATING: 8.5/10
Scott McTominay
Scott McTominay has ridden on Ole's faith and belief in him and has delivered some astonishing performances this season. He was at his very best in the Manchester derby in December. Unfortunately, an ankle injury on boxing day has scuppered the midfielder's progress.
MUU RATING: 7.5/10
Paul Pogba
Another injury ridden season. Possibly the biggest injury Ole has faced this season as United had banked on the Frenchman to be the creative force. His injury has handicapped United. Expected to be back immediately after the break, Pogba should influence more wins when he comes back into the set-up.
MUU RATING: 5.5/10
Andreas Periera
The Brazilian has been decent up to a point where has to decide what to do next. Flashes of brilliance. But, that's just about it. Can create space for himself but just can't play that final ball. Not good enough so far this season.
MUU RATING: 4/10
Juan Mata
Has lost significant amount legs but still has the creative ability to pick out an assist out of nowhere. Very much a squad player these days.
MUU RATING: 5.5/10
Jesse Lingard
Just not good enough for the best part of last one year let alone first part of this season.
MUU RATING: 2.5/10
Daniel James
The welsh flyer was signed as a backup considering the wealth United thought they had. For 15m, we really cannot complain about a guy who has been involved in 9 goals this season. Still has to improve massively.
MUU RATING: 7/10
Mason Greenwood
Possibly the biggest talent coming out of the Carrington factory since his teammate Marcus Rashford, Mason Greenwood has stayed true to that identity of him being the most natural finisher at the club. He's scored goals off the bench and from the start. Has already hit double figures in all competitions this year
MUU RATING: 7.5/10
Marcus Rashford
Hands down, Manchester United's player of the season so far. But, a nasty injury might have just ruled him out for the second half of the season. His hunger in front of goal was always there to see. But, he has had that little bit more maturity which has helped him score loads of goals he would previously miss.
MUU RATING: 9/10
Anthony Martial
Anthony Martial has had an injury scuppered season too. He has done well playing as the striker in parts. His inconsistencies will always shadow the quality player in him. It's unfortunate but it is what it is.
MUU RATING: 7/10